Driving Change

Through Virtual and Hybrid Experiences

As climate change continues to dominate conversations from boardrooms to classrooms, the need to facilitate open dialogues across continents is more pressing than ever. At Podium, we focus on global impact projects, bringing a deep understanding of how to create and deliver virtual and hybrid content for climate risk audiences.

Whether you're looking to spark new conversations, amplify your climate related initiatives, or find new ways to connect with your existing customers, Podium's specialists will give your digital events a bit of bite.
Our
virtual & hybrid event

methodology
We bring Fierce Thinking to every event, no matter the size. By calling upon experts from every corner of the agency, we blend event, digital, data, strategy, and creative expertise to deliver connected digital and hybrid events that generate exceptional levels of engagement.
Here's our approach:
Events planned around core challenges.

With experience working with global leaders across many industries, we can cut through the noise to get right to the points that matter. We complete a robust research and planning phase when creating events to ensure we understand and can respond to the unique challenges and concerns of each audience.

Content that talks your language. And theirs.

The most effective events are those that offer true insight, and the opportunity to explore those ideas with others. We invest time in understanding the best way to deliver event content and experiences, resulting in environments that align with the audience.

Seamless planning and delivery.

We know how crucial it is to be confident in the people delivering an experience with your name on it. We've worked with some of the biggest organisations in the world to design, plan, and deliver their events in a way that doesn't detract from the core issue – climate change.
Milliman
Providing change through a virtual experience
Faced with the shutdown of physical events, how do you bring together 50 of the world's leading figures in climate-related risk?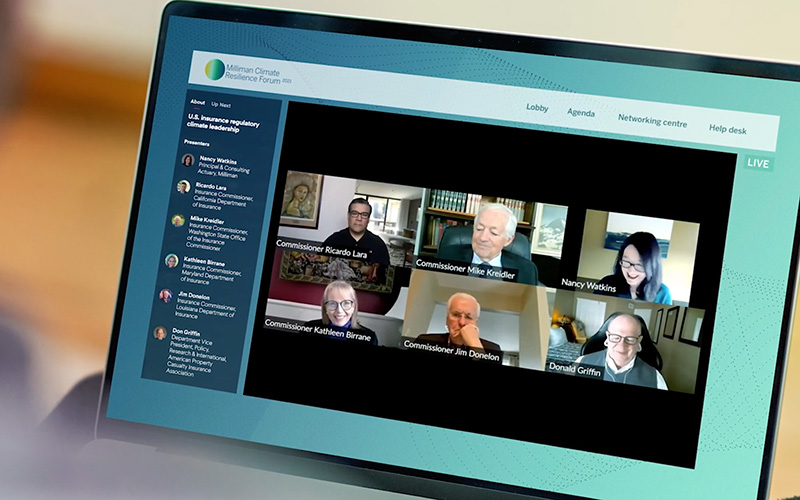 3 days
of live and interactive sessions
1,773
registration for the live event
300+
questions submitted to speakers
Our Podium clients include: