Create an experience,

not just an event

Whether you're looking to spark new conversations, amplify your reach, or find new ways to connect with your existing customers, The Croc's event specialists will give your audience an experience to remember.

We bring Fierce Thinking to every event, whatever the size or format. Forming small collectives of experts from within the agency, we blend event, digital, data, strategy, and creative expertise to develop connected digital and hybrid events that deliver exceptional engagement.
Your perfect blend of
strategy, content, technology, and data.
Whatever the specific needs of your event, our knowledge and expertise will help you achieve the perfect balance of content and interaction for greater engagement. We specialise in virtual events and hybrid events for when it's necessary to bring the best of both worlds together. Events can be designed to make use of your existing platforms, or we can run them through our own digital event platform – Podium.
Here's how we do it:
Events planned with a strategic focus.

With experience working with global leaders across many industries, we can cut through the noise to get to the points that matter. We sweat the small stuff through a robust research and planning phase when creating events to ensure we understand and can respond to the challenges of the audience.

Content that talks your language. And theirs.

The most effective events are those that offer true insight, and the opportunity to explore those insights. We invest time understanding the best way to deliver event content and experiences, creating environments that align with the audience.

Seamless planning, execution, and delivery.

We know how crucial it is to be confident in the partner delivering an experience with your name on it. We're proud to be trusted by some of the biggest organisations in the world to design, plan, and deliver their events in the best possible way.

Better data, better events.

We know the importance of the real-time data, so we treat data with the care it deserves. We provide you with the reporting tools to get the most out of your event experience and provide real-time results.
Milliman
Providing change through a virtual experience
Faced with the shutdown of physical events, how do you bring together 50 of the world's leading figures in climate-related risk?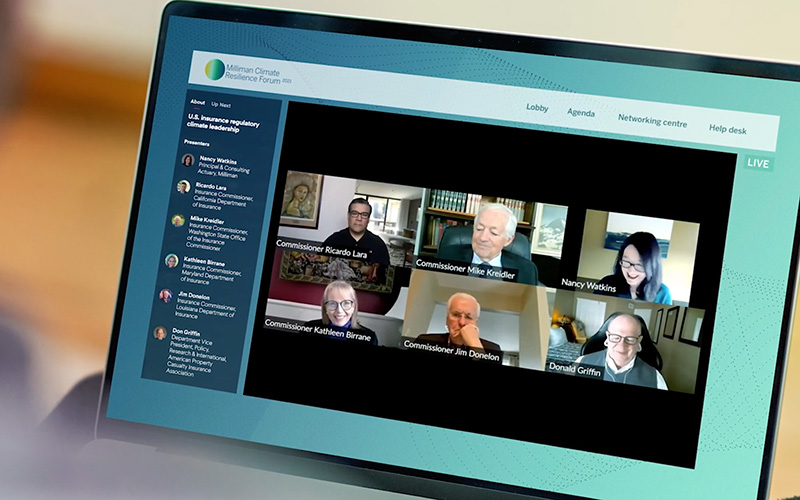 3 days
of live and interactive sessions
1,773
registration for the live event
300+
questions submitted to speakers
Our Podium clients include: